Monaco news wrap-up

AUTOSPORT brings you a Monday morning summary of the biggest headlines from throughout the Formula 1 weekend


| | |
| --- | --- |
| | By Matt Beer |
| | autosport.com writer |
| | |
As Jenson Button swept to his fifth win in the first six grands prix of 2009 in Monaco, events on track were comprehensively overshadowed by the continuing battle over the sport's future shape.
After a string of meetings between the team bosses and the FIA, both sides made conciliatory noises - but no deal was reached, and it emerged that the teams had demanded that the FIA abandons most of the planned 2010 rule changes in exchange for their commitment.
The weekend had started with Ferrari's bid to stop the regulation changes via a court injunction being denied. While the uncertainty over the legendary team's Formula 1 future lingered, the new squads that hope to capitalise on the current uncertainty started submitting their entries ahead of what will be a critical week for the world championship.
THE ACTION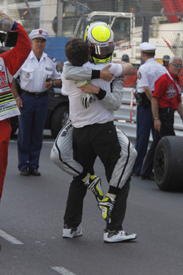 Barrichello tops first Monaco practice

Rosberg heads second Monaco practice

Alonso tops final practice in Monaco

Button beats Raikkonen to Monaco pole

Button takes dominant Monaco win
THE BIG STORIES

Ferrari loses legal bid against FIA

Ferrari slams quality of new teams

Alonso worried over his F1 future

Button: Winning has turned me boring

Ecclestone worried Ferrari may leave F1

Hamilton: I am a stronger man now

Campos's team lodges F1 entry

Di Montezemolo: F1 teams are united

Teams fail to reach agreement with FIA

US F1 confirms 2010 entry submitted

Hamilton takes blame for costly mistake

Teams continue work on F1 agreement

Mosley: Cost cap solution in sight

Massa stays cautious on Ferrari's form

Teams demand FIA ditch 2010 rules