Racing review: All the results

AUTOSPORT brings you the definitive who won what, and where, round-up from throughout the racing world last weekend


| | |
| --- | --- |
| | By Matt Beer |
| | autosport.com writer |
| | |
It was only a few weeks ago that Helio Castroneves was awaiting his fate in a Miami court room and Jari-Matti Latvala was rolling his car 17 times down a Portuguese cliff.
This weekend, both put their careers firmly back on track with superb victories, and while Castroneves' third Indianapolis 500 win was by far the higher-profile achievement, Latvala's triumph in the Rally Sardinia will be just as vital for the rising star's future.
In Monaco, Romain Grosjean's flawless start to the GP2 season continued with pole and a feature race win, then became less perfect when he went flying into the catch fencing on Saturday. Pastor Maldonado emphasised his Monaco ace reputation with victory in that race, while Oliver Turvey chose a fine venue for his maiden Formula Renault 3.5 victory in that series' Monte Carlo showpiece.
No drivers were attempting NASCAR/Indy 500 double duty this year, but it would have been far easier than usual if they had been, for the Sprint Cup's Lowe's event was rained off until Monday.
THE ACTION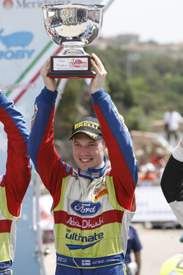 GP2: Grosjean dominates Monaco feature

GP2: Maldonado wins shortened sprint

NASCAR Nationwide: Bliss wins Nationwide at Lowe's

NASCAR Cup: Race postponed until Monday

Formula Renault 3.5: Turvey takes first win in Monaco


WRC: Latvala ends Loeb's winning streak

F1: Button takes dominant Monaco win

IndyCar: Castroneves claims third Indy win