Racing review: All the results

AUTOSPORT brings you the definitive who won what, and where, round-up from throughout the racing world last weekend


| | |
| --- | --- |
| | By Matt Beer |
| | autosport.com writer |
| | |
A perfect weekend for Nico Hulkenberg at his home track thrust the German rookie into the lead of the GP2 Series, as his dominance of both races in tricky conditions coincided with a variety of disasters for the rest of the title contenders.
There was a change of championship leader in the IndyCar Series too, as momentum swung back towards Dario Franchitti in a spectacular Toronto race. Just a week after a Watkins Glen spin let his Ganassi team-mate Scott Dixon make a break in the championship, Franchitti struck back by emerging in front in Canada once the strategies and incidents had played out.
Elsewhere in America, Mark Martin underlined his status as a serious contender for this year's NASCAR Sprint Cup crown by leading Hendrick team-mate Jeff Gordon following a commanding performance at Chicagoland.
THE ACTION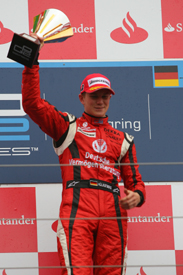 NASCAR Nationwide: Logano takes Chicagoland victory

NASCAR Sprint Cup: Martin wins at Chicagoland

V8 Supercar: Whincup takes Townsville race one

V8 Supercar: Courtney wins race two in Townsville

IRC: Skoda clinches one-two in Russia

GP2: Hulkenberg dominates in Germany

GP2: Hulkenberg completes double win

F1: Webber overcomes penalty for first win

IndyCar: Franchitti wins amid Toronto mayhem