Magazine: Vettel's driving analysed

In this week's AUTOSPORT magazine, we get to the heart of just what has made Sebastian an all-dominant force in Formula 1 this year, so read on to find out whether it's his racecraft, technical nous or his driving style...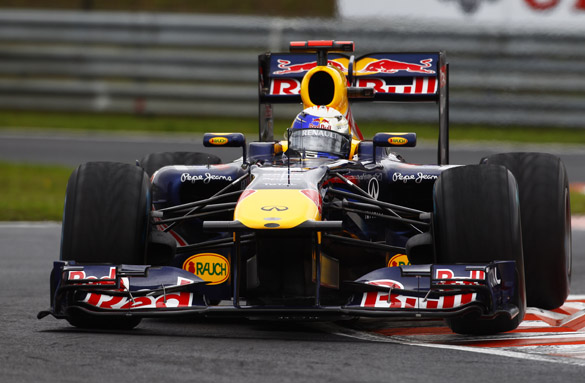 Sebastian Vettel: he's the force of the age, but is that because of the Red Bull racers that Adrian Newey designs for him, or because he's a genuine great?
AUTOSPORT's Edd Straw and Mark Hughes look into the phenomenon of the reigning (and likely repeat) world champion, assessing whether he can overtake, how good he is under pressure, his adaptation to the latest Pirelli tyres, the myriad aspects of his driving style, the current Red Bull RB7, and what he's like to work with – through the eyes of his mechanic Joe Robinson.
It all paints a picture far more complex than the Vettel cynics – who view him as the spoiled favourite son of the Red Bull top brass – would propagate.
Mark Hughes column - In his weekly column, our grand prix editor turns his attentions to Ferrari. There was a very brief cameo at the start of the Hungarian GP that suggests that the aero improvement Fernando Alonso is enjoying may have come at the expense of traction, but that shouldn't prevent the second half of the season being much closer-fought than the first.
Pirelli's new direction - Rioting in the UK's cities, a Conservative government – it's led many to suggest that this is the 1980s revival. Well, we've already got F1 turbos on the stocks for 2014, and now Pirelli is talking about producing some qualifying tyres. Before you go looking for that old Eurythmics vinyl, read our two-page story on what the 'quallies' could mean.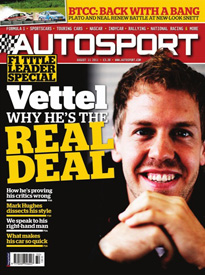 Making motorsport greener - Motorsport has to be aware of green issues – just in case. So this week we take a look at what role the sport can play. Edd Straw looks at Formula 1, Mark Glendenning compares the efforts of several series, Gary Watkins assesses the technological playground of Le Mans, and Charles Bradley gets behind the wheel of a gas-powered VW Scirocco R-Cup car.
Marcos Ambrose on life in the US - Once upon a time Marcos Ambrose was Australia's top touring car driver, but since the middle of the past decade the Tasmanian has been earning his crust in NASCAR. He talks to Andrew van de Burgt about life in the States – and his mum not knowing much about the good ol' boys.
BTCC Snetterton - The British Touring Car Championship ended its seven-week summer break with a trip to Snetterton. Kevin Turner reports on the triple-header, and finds that Jason Plato's return to winning form was very much assisted by, erm, not concentrating on the racing.
IndyCar Mid-Ohio - Another bloke from Down Under doing well in the States is New Zealander Scott Dixon, who finally claimed his first IndyCar victory of 2011 at Mid-Ohio last Sunday. Read our full report of the race.
DTM Nurburgring - Talk about back from the brink... Mattias Ekstrom hadn't won in the DTM for over a year, but he utterly dominated at the Nurburgring to take pole and victory for Audi. Jamie O'Leary was there to watch him.
From the archive - BTCC legend Matt Neal remenisices about his debut in the series 20 years ago at Silverstone.
Race of my life - Brett Bodine - he's the middle brother - reflects on his greatest race, his lone NASCAR Cup win at North Wilkesboro in 1990.
To read this week's AUTOSPORT magazine, click here.