The AUTOSPORT Podcast 2011

The AUTOSPORT Podcast is back and it's better than ever as editor-in-chief Andrew van de Burgt, magazine editor Charles Bradley and news editor Glenn Freeman join Henry Hope-Frost in the booth to discuss the season so far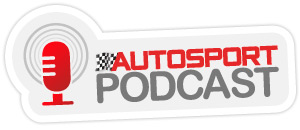 In the studio at AUTOSPORT Towers, we take an in-depth look at F1 2011. There's a debate on whether the new rules have worked, and insight from grand prix editor Mark Hughes direct from Belgium with his latest take on the season.
Then there is a discussion about the latest F1 news, including Bruno Senna at Renault, Kimi Raikkonen's impending return to racing, a Robert Kubica injury update and our thoughts on Michael Schumacher – 20 years on from his F1 debut. Can he still hack it?
We also have a chat with rally correspondent David Evans after a turbulent Rally Deutschland, plus the latest insight into GP3 and IndyCar Series.
And if all that's not enough, there's the chance to win two tickets to the AUTOSPORT 6 Hours at Silverstone.