Video: F1's new exhaust rules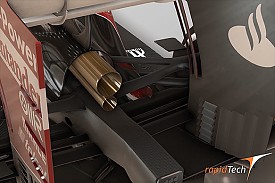 In his latest technical video CRAIG SCARBOROUGH explains F1's new exhaust rule, a new aspect to Mercedes' front wing and how sparks have made an aesthetically-pleasing return this year
Formula 1's push to make its latest-generation engines louder has stepped up a gear with the FIA approving rule changes around the cars' exhaust systems.
Since the introduction of the new power units for 2014, the noise of the cars has been a significant talking point among fans.
To continue reading this feature...
You must have an AUTOSPORT+ subscription. Prices start from just $1.50 per week and give you full unrestriced access to all news and features. View package options? Magazine subscriber?

Get unlimited access to AUTOSPORT with news and views from the paddock
Enjoy AUTOSPORT+: subscriber-only analysis, comment and top-quality pictures
Explore every F1 stat in the world's best motorsport database
Pay as you go
Read this feature right now for just